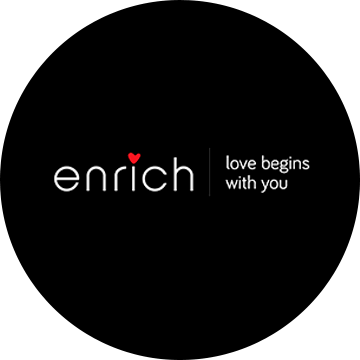 Enrich Salons
Free Hair Wash with an Undergrad Haircut
Pamper yourself at Enrich salons with frapp!
Students can avail of the undergraduate haircut at a big discount at any of the salons. Along with this, you will also be treated to a free hair wash.
Get your makeover now!
The undergrad haircut is priced differently across different Enrich Salons.
Applicable On
Monday - Thursday
1. Offer valid from Monday to Thursday.
2. Valid only for Undergraduate students (below the age of 21)
3. Any other offer, membership discount or benefits cannot be clubbed with this offer.

Hypercity Meenakshi Mall
Royal Meenakshi Mall, Hypercity, Bannerghatta Main Road, Bengaluru, Karnataka, 560 076, India
Hypercity Whitefield
ITPL Road, Whitefield Bengaluru, Karnataka, 560 037, India
Andheri W- Four Bungalows
Ashish CCHSL St. Louis Road, Four bungalows, Andheri (West), Mumbai, Maharashtra, 400053, India
Tandon Mall
127, Andheri Kurla Road, Andheri East, Mumbai, Maharashtra, 400 049, India
Lokhandwala - Andheri (W)
Silver Springs, Opp. HDFC Bank Lokhandwala, Andheri West Mumbai, Maharashtra, 400 053, India
Shoppers Stop - Andheri (W)
Shopper Stop, Level 4B, S.V. Road, Andheri West, Mumbai, Maharashtra, 400 058, India
Bandra Turner Road
Grand Residency Hotel & Serviced AptJunction Of 24Th & 29Th Road Off Turner Road, Near Tavaa Restaurant, Bandra West, Mumbai, Maharashtra, 400 050, India
Jaya Nagar
Next To Rajlaxmi Jewels, Rajlaxmi Arcade, Ninth Main, Third Block, Jayanagar, Bengaluru, Karnataka, 560 011, India
Bandra (W)
Soney Apt., 45, Hill Road, Opp. Elco Market, Bandra West Mumbai, Maharashtra, 400 050
Borivili (W) - Factory Lane
Kent Garden, Factory Lane, Borivali West, Mumbai, Maharashtra, 400 092, India
Chembur (E)
Peace Heaven, Near Ambedkar Garden, Chembur East, Mumbai, Maharashtra, 400 071, India
Ghatkopar (E)
Meghdoot Building, Shamji Damji Shah Chowk, 60Feet Road, Ghatkopar East Mumbai, Maharashtra, 400 077
Indira Nagar
MSK Plaza, Defense Colony, 100 Feet Road, HAL II Stage, Indiranagar, Bengaluru, Karnataka, 560 038, India
JVLR
Traffic Office Building, Majas Bus Depot JVLR, Jogeshwari East, Mumbai, Maharashtra, 400 063, India
Growel Mall
G-19, Growel Mall, Akruli Road, Kandivali (E) Growel's 101 Mall Mumbai, Maharashtra 400101
Kandivali (W)
Dhavalgiri Apt., Opp. Bata Showroom S.V. Road, Kandivali West Mumbai, Maharashtra, 400 074, India
Kemps Corner
Chinoy Mansion, Bomanjee Petit Road, Kemps Corner, Mumbai, Maharashtra, 400 026, India
Thakur Village
Shop No. 91, Venus CHS Ltd, Evershine Millennium Paradise Bldg Sector 2C, Thakur Village, Kandivali (E), Mumbai, Maharashtra, 400101, India
Phoenix Market City - Kurla
Lower Ground Floor, Phoenix Marketcity, L.B.S Road, Kurla West, Mumbai, Maharashtra, 400 070, India
Laminghton Road
Navjivan Society, Lamington Road, Mumbai Central, Mumbai, Maharashtra, 400 008, India
Matunga Circle
Patel Mahal, Opp. King Circle, Matunga (CR), Mumbai, Maharashtra, 400 019, India
Mira Road (E)
Brahmadev Regency, Mira Bhayander Road, Mira Road East, Mumbai, Maharashtra, 401107, India
Sarvoday Nagar - Mulund (W)
Shri Raj Rajeshwari CHSL, LPK Extension Road, Mulund West, Mumbai, Maharashtra, 400 080, India
Mulund (W)
Vikas Paradise, LBS Road, Mulund West, Mumbai, Maharashtra, 400 080, India
Parel (E)
Bayside Arcade, Ashoka Towers, Opp. Bharatmata Cinema, Parel East, Mumbai, Maharashtra, 400 012, India
Kharghar
Patel Heritage, Sector 7, Kharghar, Navi Mumbai, Mumbai, Maharashtra, 410 210, India
Hiranandani - Powai
Ventura,Central Avenue Road, Hiranandani Business Park,Powai, Mumbai, Maharashtra, 400 076, India
Santacruz (W0
Dinar Building, Station Road, Opp. Seasons, Santacruz West, Mumbai, Maharashtra, 400 054, India
Opposite Poddar School - Santacruz (W)
Tagore Kunj, Opp. Poddar School, Santacruz West, Mumbai, Maharashtra, 400 051, India
Sion Circle
Indrapuri CHSL, Sion Circle, Mumbai, Maharashtra, 400 022, India
Sobo Central
SoBo Central, Tardeo Main Road, Haji Ali, Mumbai, Maharashtra, 400 034, India
Vile Parle (W)
145, Arvind Villa, S V Road, Vile Parle West, Mumbai, Maharashtra, 400 056, India
Hypercity - Vashi
Hypercity, Inorbit Mall, Vashi, Navi Mumbai, Maharashtra, 400 703, India
Sector - 17, Vashi
Chhada Cresent CHSL, Sector 17, Vashi, Navi Mumbai, Maharashtra, 400 703, India
Seawoods
Dhara Complex, Sector 44, Nerul, Near Bank Of Baroda, Nerul, Navi Mumbai, Maharashtra, 400 706, India
Amanora Mall
East Block, Amanora Mall, Hadaspar, Pune, Maharashtra, 411 028, India
Aundh
Sayali Terrace, Anand Park, ITI Road, Opp HDFC Bank, Aundh, Pune, Maharashtra, 411 007, India
Bhandarkar Road
852/1, Ground Floor, Dinkar Baug Apartments, Opp. Golwilkar lab Bhandarkar Road, Near Deccan Gymkhana, Near Kamala Nehru Park Pune, Maharashtra 411004
Hypercity - Malad (W)
Hypercity, Malad Link Road Malad West, Mumbai, Maharashtra, 400 064, India
Infinity Mall - Malad
Infintiy Mall, Lower Ground Floor, Link Road, Malad West, Mumbai, Maharashtra, 400 064, India
Phoenix Market City - Viman Nagar
# G-06B,Ground Floor,Phoenix Market City Phoenix Boundary Road,Viman Nagar Phoenix Marketcity Pune, Maharashtra 411014
Wanowrie
Ashwini Palace Society, Next To Kedari Petrol Pump, Wanowrie, Pune, Maharashtra, 411 040, India
Panch Pakhdi
Shop No. 1, Prince Palace, Next to Greater Bombay Bank Madanlal Dhingra Road,Panch Pakhadi, Thane West Thane, Maharashtra 400602
Hiranandani Meadows - Thane (W)
Shop No.7 & 8, Block No.1, Emerald Plaza CHS Ltd, Hiranandani Medows Thane Manpada, Thane West Mumbai, Maharashtra 400601
Viviana Mall
Ground Floor, Hypercity, Viviana Mall, Eastern Express Highway Next To Jupiter Hospital, Thane West Thane, Maharashtra 400610
Valid before 30th Apr '2017
Redeem this offer
LOGIN / SIGN UP